Tuesday, July 29, 2014
That is,
if you still can ever hope to retain your freedom
, in the face of "president" Yameen consolidating his dictatorship.
Posted by

Hilath Rasheed - Journalist from Maldives
at 10:27 AM
No comments:


Friday, July 25, 2014
I almost lost complete faith in humanity recently but, fortunately been in
this Facebook group
, pulled me back from the brink, and made me decide to give up my lifelong dream of acquiring a nuclear weapon before I die and blowing Earth to bits in order to get rid of the LARGELY selfish human race. So, with
all these depressing things around you
, if it helps, join this group and have a heart-warming moment once in a while.
Posted by

Hilath Rasheed - Journalist from Maldives
at 9:30 AM
No comments:


Thursday, July 24, 2014
Hulhevi Media:
She has always been known as the insane woman. A social reject living on the streets, she has suffered every abuse and harassment imaginable ever since childhood. Now she opens up extensively for the first time, exposing the country's attitudes, discrimination towards the disadvantaged and institutional failures to protect them.
Posted by

Hilath Rasheed - Journalist from Maldives
at 4:47 PM
No comments:


Israel, Gaza, Ukraine, Malaysian Airlines, ISIS… humanity seems on the brink of a Third World War, and I don't know why, perhaps because I wanted to read something light yet strong (like the "contradiction" of "a woman writing about war") because I was going through a
personally depressing time
, I finally bought the paperback, and I am glad I did.
And if you are a man always complaining how you are unable to "get through" to women because they are from Venus, you better hold your prejudice horse back and read Danielle Steel's
MESSAGE FROM NAM
, too.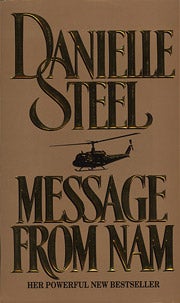 Written in pedestrian language (like I do as does Amish Patel and Dan Brown), the first chapter itself is one of the most powerful intros to a war, and if you, like myself several years back, grew up in a Conservative society, you will be stunned how a 'woman' could write about 'war' like that! The great thing is, Steel, being the Liberal herself, has done a great service to humanity by writing about war in a way that could spark a "Kasauti" woman's interest for the noble cause of getting them involved in the political messes that only we men could create. And she does it exactly like that: No room for strict monogamy as the young heroine suffers heartbreak after heartbreak, losing all her loved ones (not just lovers) to war.
Tears would come to my ears every now and then but it was the last four pages that really tore my heart out, perhaps due to my own Kasauti upbringing: the climax of the book, with a twist of serendipity, was most heartbreaking and I couldn't help but sob afterwards as it seemed to evoke surreal images from
Argo
,
Titanic
,
The Killing Fields
and
Black Hawk Down
.
Two decades ago, fresh from studying the American debacle in Vietnam from my grade 10 History class, being in the Conservative society myself, I myself due to my misogyny, avoided reading it despite my curiosity how my two – and much much younger – female cousins got interested to read a novel about a war and recommended it to me. (I only read Steel's
Kaleidoscope
back then because I was interested to know how a "Kasauti woman" deals with the subject of child abuse! A Maldivian female friend in Colombo, who recently borrowed
Kaleidoscope
from me, recommended me Steel's
Malice
and I am now definitely going to read it.) Even my guilty pleasure of reading Sydney Sheldon had to be kept a secret because a friend who found out joked that "Hilath must be gay because he is reading women stuff".
I know many people who have not even bothered to secretly venture out of their boxes and I am glad that, despite all the social pressures then, I was secretly doing it – even going to the extent of reading Nancy Drew. Glad because, if I hadn't read ALL kinds of writing, I am not sure I can write like how I am writing today - in pedestrian language that can be understood by people who are only familiar with colloquial English.
The truth is, although many of you praise my writing skills, I am actually a latecomer and can never hope to attain the great heights achieved by more assured writers like
Ogaru Waheed
,
Mohamed
,
Nadhrath
,
Ali Rasheed
,
Sharif Ali
,
Ibrahim Sharif
,
Mariyam
,
Shanooha Mansoor
, etc, although some of them tell me they were inspired to start writing after reading my columns and features in Haveeru's English section. I read my first English storybook when I was in grade 8 because my pride was hurt and I wanted to catch up: Everyone in my class had 'graduated' to Sydney Sheldon while I was still struggling with my first 'Famous Five' book! However, fortunately, I saw myself 'advancing' not gradually like my friends but quite rapidly: I read only a few books in the Famous Five series (unlike them who finished the whole series) and then, because I needed something more challenging, I advanced to Sydney Sheldon, and after reading a few books, I dared to venture into the serious adult world of literature by reading Paulo Coelho's THE ALCHEMIST, Arundhati Roy's THE GOD OF SMALL THINGS and Michael Ondaatje's THE ENGLISH PATIENT.
So, today, I will not ridicule ANYTHING that people consider Kasauti. I learnt this in quite an interesting manner way back in 2005: A Maldivian male student, who was only 16 years old then and was a fan of my blocked blog Hilath.com, told me how he came to accept homosexuality as normal after having watched the sitcom F.R.I.E.N.D.S. and seeing how normal it was for Ross' ex-wife to be in a lesbian relationship. I myself stopped watching that series after the sixth season because, like how
Queer As Folk
(which I stopped watching after the 3rd episode) is for "Kasauti gays", I thought F.R.I.E.N.D.S was also quite superficial. So please, hereafter don't talk down anything which seem Kasauti to you: it has its ultimate noble purpose, and as I told another Maldivian friend last week, I will defend any Kasauti to my death as long as it serves the Liberal cause, be it Danielle Steel or F.R.I.E.N.D.S or even
Twilight fanfiction
:-)
Posted by

Hilath Rasheed - Journalist from Maldives
at 3:57 PM
No comments:


The action thriller will hit over 5,000 screens in India Friday as well as 42 other countries including non-traditional markets like France, Germany, Morocco and Maldives. The advance bookings for `Kick` started Wednesday and Thadani says that the data promises a bumper opening for the movie which stars Sri Lankan actress
Jacqueline Fernandez
as the female lead.
Read more
Posted by

Hilath Rasheed - Journalist from Maldives
at 1:00 PM
No comments:


Caliph Abu Bakr must now be squirming in his grave...
Lukewarm Maldivians?
The new "caliphate" of Abu Bakr al-Baghdadi – the Islamic State, formerly ISIS – recently made clear that it means to follow in the footsteps of the original caliphate of Abu Bakr (632-634). It will do this specifically by directing its jihad against fellow Muslims – in Islamic parlance, the "hypocrites" and "apostates," or in Western terminology, "moderates."
This came out in the context of the current conflict between Israel and Hamas, with some Muslims asking the newly formed "caliphate" when it would launch a jihad on the Jewish state.
The Islamic State's response? "Allah in the noble Koran does not command us to fight Israel or the Jews until we fight the apostates and hypocrites." Read more
Posted by

Hilath Rasheed - Journalist from Maldives
at 12:20 PM
No comments: